MORSEN LED GROW LIGHTS
FLOOD LIGHTS
SOLAR LIGHTS
REVIEWS & PROJECTS
LED Grow Lights Reviews&Projects
"I use HPS to run my business, but I bought a bunch of LED to experiment with a couple years ago, and this light has performed great for over a year. The plants respond nice in veg and bloom, and as expected. For veg stage, these lights are amazing because they don't produce the heat.
The light itself is BRIGHT— which is exactly what I was hoping for. It covers the area I needed it to cover, and my plants seem happy! I appreciate that it came with gauge for humidity and temperature, which has appeared to be working very accurately. I'm really happy that I went with this option. "
-The Dutchman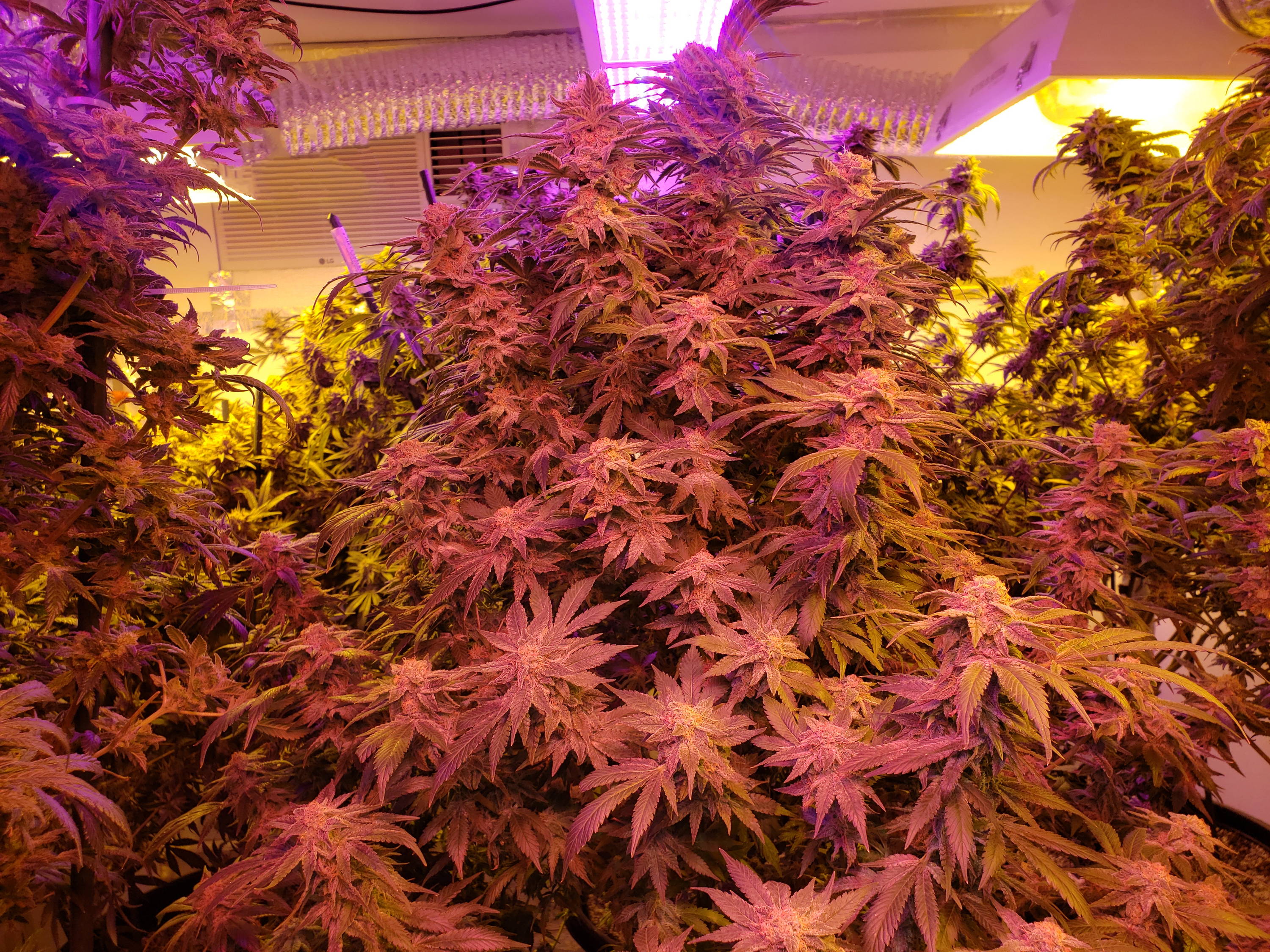 "I have had great growth in the two weeks I have been using these lights, and the plants (white widow) love them. There is a little heat from these lights, but it maybe raised my grow room temp by 2 to 4 degrees, no big deal. 4x10x7 room. I will be purchasing two more of these lights for the room, as I feel about 1200 watts per every two plants is a minimum in led lighting to accomplish the turn around I want, on the 4 plants i can legally grow. (4 weeks veg, 8 weeks flower on 4 week old clones) I prefer using the 4 smaller lights VS; two larger ones, just in case I have a light malfunction, I still have light going till I get it fixed or replaced. Cant wait for my reflective poly, and my nutrients to get here. Love them so far. Happy growing. Awesome customer support! "

―ccc on May 25, 2018
"I would like to write a review… For anyone that is curious, I am using the M 1800w for actual vegetables! Strange, I know…But let me tell you… This light panel is UNMATCHED. Even vegetation on my veining fruits remains compact. Fruit production, on both tomatoes, and blueberries is spectacular. Dill is overgrown, and I cannot possibly pick enough! The taste of the herbs is spectacular, and furthermore, I couldn't give the light the credit it truly deserves. Keep doing what you are doing. Thank You!! "
―Thomas A.
"I recently moved my aquaponics system from living room to the basement to have some expansion and have to get a bigger grow light. After running some searching and comparison, finally I got MRS-600W ordered.
The setup is extremely simple, because the hangers are provided. The greatest two of my favorite features of this grow light are:
1. Energy savings, it just cost ~120W and produces 600W light intensity, with the high efficiency LED bulbs.
2. Dual mode - vegetable and bloom, so at different stages, I can easily switch the mode, although currently I mainly use the vegetable mode.
It's now controlled by a mechanical timer and turns on for 10-hours and I already see the improvement of the growth of my vegetables. It's an awesome choice to boost the indoor gardening "
― Diana Perez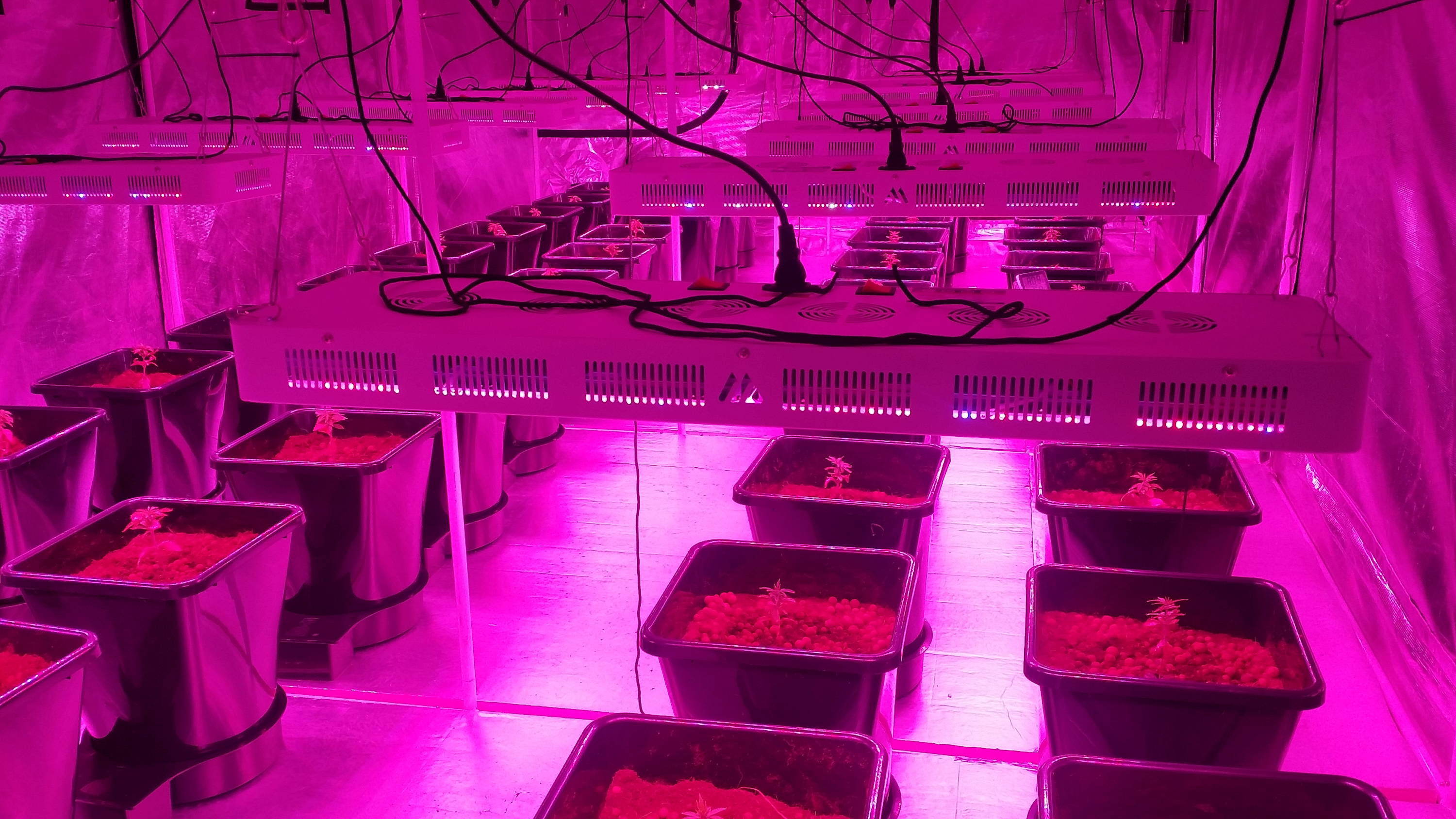 ---
I grow Medical Cannabis Legally in Colorado and needed some good light for my indoor grow tent. I did extensive research and purchased the Affordable 3000W Plus LED Plant Grow Light and LOVED it so much. The lights works better than I could have hoped for. First and foremost my Plants LOVE the light more than I do! The fans are quiet and the lights works great. When I switched to BLOOM my Plants responded immediately! I can't wait to seeing the results.
― Alexander S.
---
MORSEN!!!I'm not kidding, I installed this in flower room at 4X4 SQ FEET. over 4 weeks into 8 week flower plant top at about 5' tall out of a five gallon bucket on a Tuesday evening by Saturday morning some branches had grown out from the very bottom that were nothing, They were 3 times the size they were on Tuesday. That's in 3 days and the branches were covered in nuggets! I Freaked out! I am done with HOT hid lights! I also have had some other lights for the last 2 years and have been pleased with it (but not freaked out) I believe MORSEN is advancing their technology better than most other LED manufacturers. I am looking forward to being more MORSEN in the Future. Thanks guys for your dedication to the cause.
― Phoebe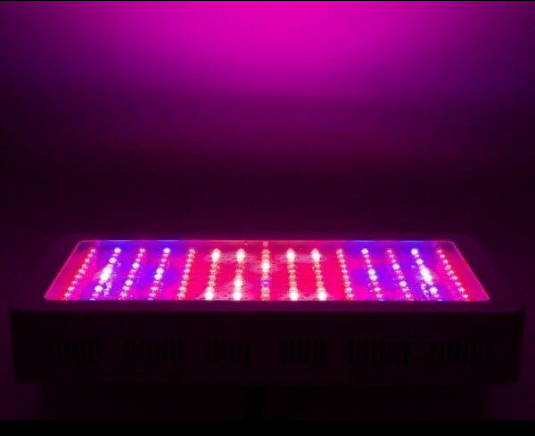 "First grow lights I have ever purchase. I first purchased the MORSEN 1500W and was impressed with how efficient it was. Did not produce a lot of heat, low electricity cost, and my plants seemed to enjoy it. Overall, Morsen does produce good lights and I would recommend them. Check out the coverage, it is amazing!!"

- KDDid
January 13, 2019
"Great light, just as described. When I first turned it on it looked like 4 LEDs were out. I emailed the company who got back to me in a few hours. Just so you know when you buy this, 4 LEDs are intentionally dim, they are the IR and UV Leds. Its not a huge light and only at 30watts its not going to cover a lot. I wanted this for my seedlings, which it will do great for."
- Robert A.

July 1, 2018
"That is what convinced me about this product. I have another LED array with a similar rating - but the plants visibly reach towards MORSEN LED panel in preference to the other one! When I saw that, I knew that it provides what the plants needed beyond any doubt.
Overall, I'm pleased with my purchase. This light should color up my plants like crazy."
- Heather H
October 25, 2018
LED Flood Light Reviews&Projects
"I've been an electrician for 25 years; and I've rarely ever seen a light fixture quite this rugged and well built. I'm very impressed. I bought the 400 watt plus version, and this whole unit is tough! Just one of these is enough to illuminate most of the 6 full acres of back yard behind my workshop. This light is almost blinding from the road that connects behind my shop which is about 500 yards back. Wiring is easy as anything else, and the mounting bracket is tough as nails. No reason why this light shouldn't last for 10 years. I honestly just ordered a second one for the shop I have in town as well. Awesome! So much better than anything else I have looked at. "
― Scott on November 14, 2018
"I bought Morsen Led Flood Light 300w for my backyard. I have about an acre, not need for the sun anymore, just flip on my light switch and the darkness goes away. I love it, my neighbors, not so much they think it's too bright. "
― RPOP on August 26, 2018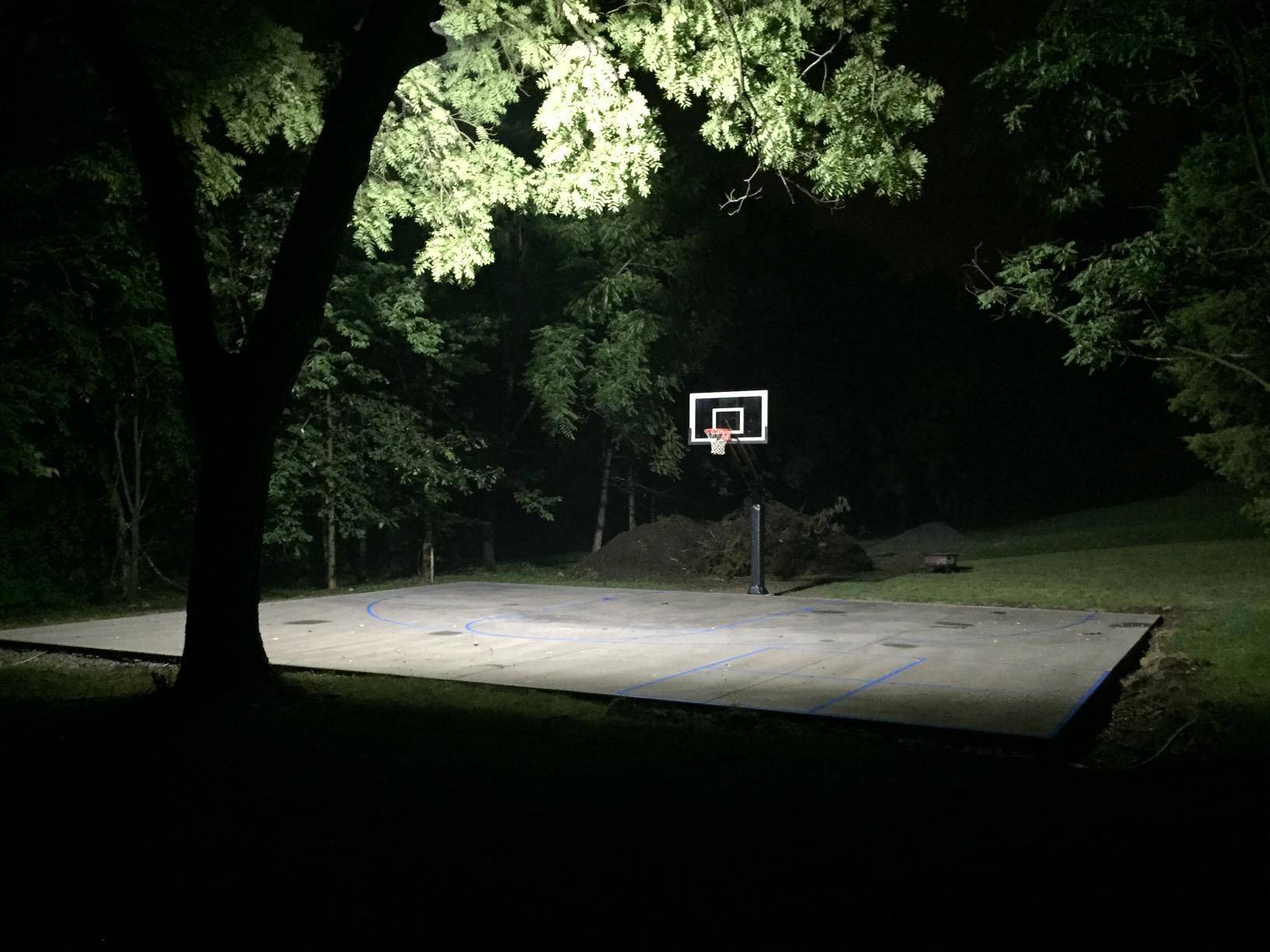 "Bought LED Floodlights a few weeks ago, and use it to pour concrete at night. I have only used it twice. It is bright and does a great job. I gave it three stars because one of the LED's has already burned out. Within 24 hours of writing a review MORSEN customer service contacted me. They are sending a replacement led chip for the one burned out, plus an extra for backup. Cannot ask for better customer service!! I will definitely be ordering additional lights from these people in the future. "
― Rhalf43 on March 23, 2018
"Great product. I originally purchased two of LED Floodlight 500w for exterior use in a grocery parking lot and they worked so good, that I purchased four more 600w for the rear area of the building. These are very bright and serve best for outdoor commercial use. Basic electrical components to ensure they are corrected properly."
― scott young on October 26, 2018
"For starters thanks to everyone that gave good reviews with photos before me, it really helped me to solidify my purchase. For anyone looking for a bright Floodlight to light up their yard, THIS LIGHT'S FOR YOU! I'm EXTREMELY pleased with my purchase and this light illuminates a huge amount of my property that was previously sitting in darkness. I paired it with a dusk to dawn sensor and it comes on when it gets dark and goes off when it gets light outside without me having to worry about switching it on and off manually. This light is useful for anyone with security concerns for their property looking for good floodlights to use. I waited a couple of months before writing this review since I've had bad luck with other brands of floodlights before but I would HIGHLY recommend this one. I can honestly say this light from Morsen has been spectacular and I wouldn't hesitate to buy more of any size from them. "
― AC on August 24, 2018
"Very well packed!! This thing is amazing. IT IS VERY BRIGHT I ordered the westek SW103CT outdoor swivel photo control sensor so I didn't have to wire it to a switch sun comes up it goes off sun sets it turns on I WILL buy this product again."
― Ashley Sims
MORSEN REFLECTOR FLOOD LIGHT - 500W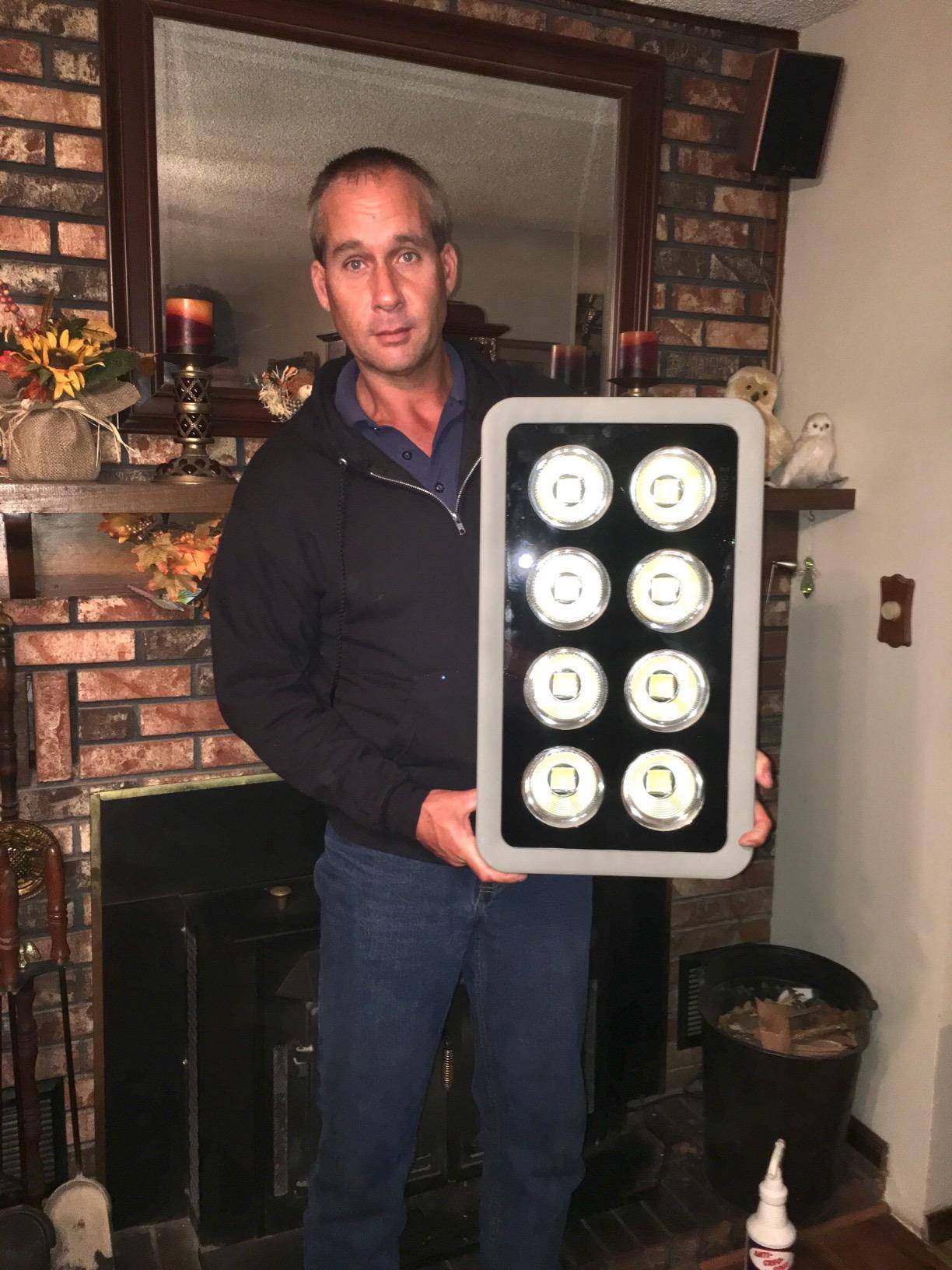 I bought a pair of these to create "over the top" landscape lighting. I live in Alaska on a river, and the winters here can be dark and long. We are in a rain forest, so there is usually no moon visible @ night. Although the river is only 90 yards outside of our windows, it is often impossible to see at night. Not anymore! I mounted the pair on 14' posts and pointed them across the river. They fully illuminated the river, as well as the 80' Sitka spruce trees on the opposite shore, 50 yards away.

We get about 90" of rain a year, so IP 65 was a must. These babies work even during a downpour without a problem. We get plenty of snow, and sometimes it accumulates on the face plate, due to the somewhat upward angle I set them. The light shines trough the snow, and melts it away in 10-30 minutes, depending on the thickness and wetness.

I have other landscape LED lighting, and these are all @ 6000k. I recommend this color temperature in areas that get snow. It really makes things pop!

As other have said, they come on @ full brightness instantly, and require no warm up like sodium vapor lights. Also, they burn very little electricity. I bought them two summers ago, but didn't get them up until last summer, due to an early snow the prior year. The price has dropped by about $40 each since I bought them, but they are worth what I paid. They are going strong! .
― Steve Bower on January 23, 2018
---
Solar Lights Reviews&Projects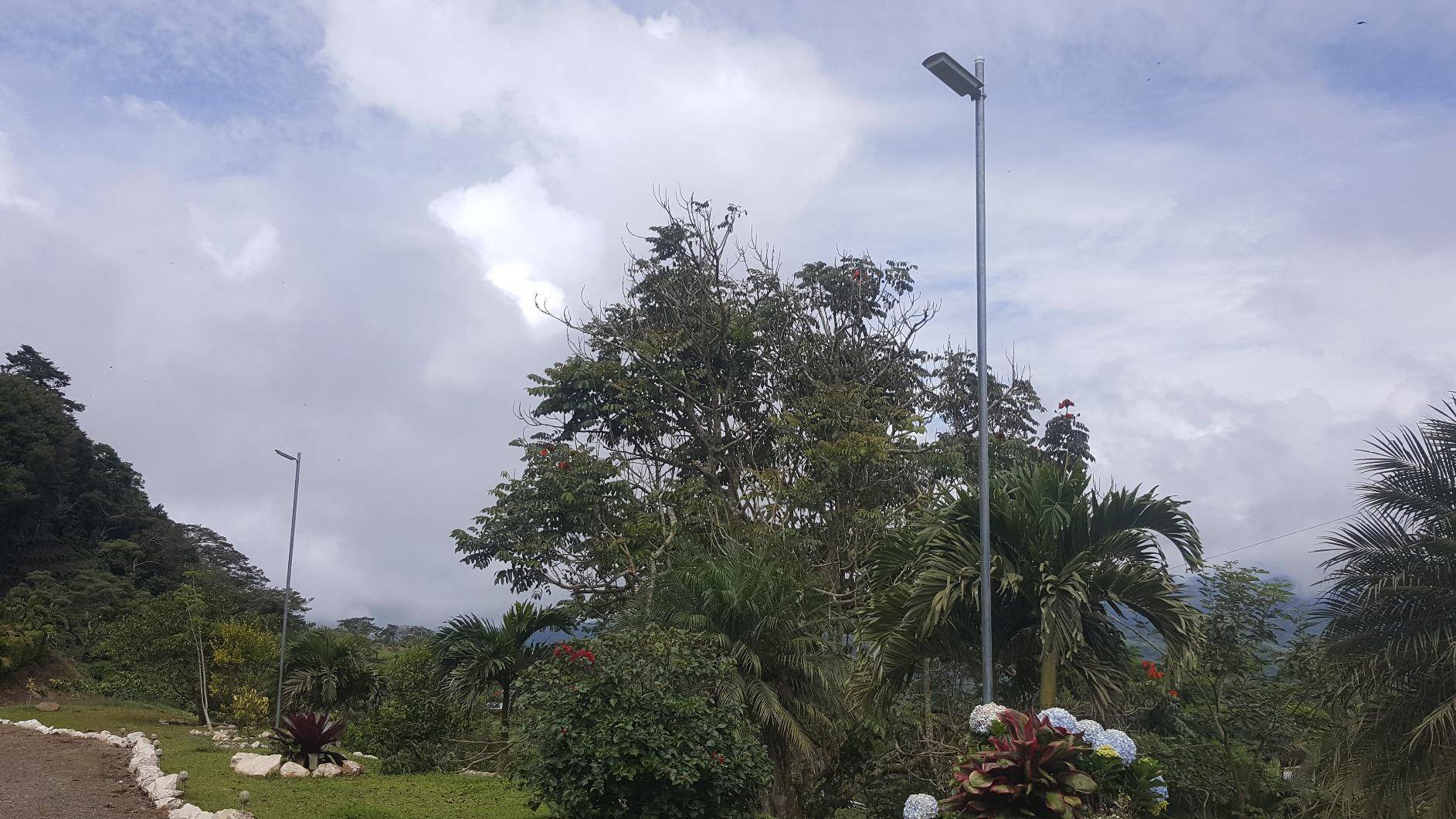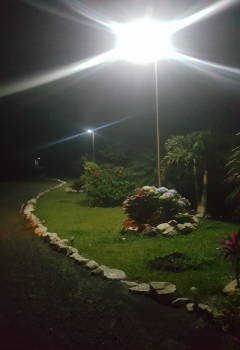 "I recommend this product without thinking about it. the best of all street lamps. excellent quality . eleven units and really happy. "
― RPOP on October 01, 2018
"This Garden Light is Perfect for the Garden and Outdoor. I Fixed on top of Garden Entrance. Its Way Much better than the Regular Solar Lights. It so bright. It able to cover more Distance. In the Botom of the Light its visiable. When you are going far away from the Light, you see the bright ness is reduced. But its able to see long distance.. "
― Sujji on June 07, 2018
I live in PR and after huracan Maria the majority of streetslight did't work . This product helped me to bring back ilumination in front of my house.Excellent!Easy to install love the brightness!
After owning this light for almost a year, here is my opinion: It is not as bright as the 100 watt high pressure sodium it replaced. The light output is more downward focused. The good about that is it doesn't reflect on my house and cause spiders to move in. I live in Pennsylvania and due to the short cloudy days this winter it would only stay lit a few hours each evening. Now that spring is almost here and the days are longer it is back to staying lit all night. Very well built and needs no electricity. It has also taught me a lot about how solar would work in my area. Very satisfied with this product.
-Gadgetman S. on 12 Mar, 2019